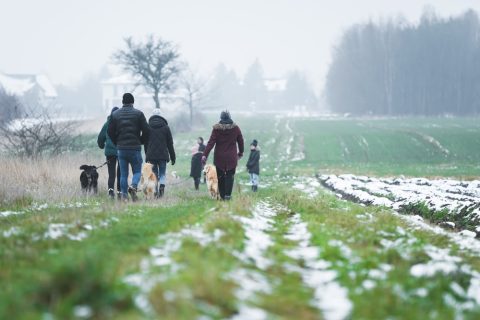 Of the many things we are most proud of in the West Midlands, it would be our strong focus on family life and all that it entails. You can see this every year at Christmas with so many warm and inviting family activities, especially in counties like Warwickshire. Again, this year, you will find many of the traditional events, fairs, and marketplaces that attract visitors not only from Warwick and Nuneaton but from areas throughout all of England and Wales to our west.
Having 10 of our communities listed among the best places to live in the UK, you can see why we are so proud of our heritage and way of life. Did we mention that our county is famous as the birthplace of two literary greats, William Shakespeare and George Elliot? So then, if you are looking for things to do at Christmas, you need look no farther afield than Warwickshire. Let's see what we have in store for you this year. 
Family Christmas Activities
Most of our Christmas events are well-rooted in family. While there are venues that typically attract adults more often than not, like the Royal Shakespeare Theatre, you will find that Christmas is the exception to the rule. This is a time when A Christmas Carol is performed there for the delight of children of all ages. There are so many Christmas activities in the vicinity near Warwickshire that it's all one and the same to us. The entire region is rooted in a family way of life and as such, families come every year to visit:
And those are just highlights of Christmas venues and activities in the West Midlands near, and in, Warwickshire County. As we mentioned above, there is nothing dearer to our hearts in this part of the West Midlands than family life which is why we see traditional birth families and foster families alike making their annual appearance to celebrate the Christmas season with us year after year. 
Even More Family Attractions in Warwickshire
It really is all about the family during this season of the year. So many of the most popular venues and events are tailored toward children so there is never a week that goes by without something appealing to the little people of our communities. In addition to the activities listed above, Christmas in this area of the West Midlands includes things like:
A Christmas Concert – 18 December – Wolvey Village Hall
Santa's Grotto at the Book Farm
Cosy Candlelit Christmas Sound Bath – Rosebird Centre – Stratford-upon-Avon
Annual Christmas Concert – All Saints Church, Warwick
…along with every shop and restaurant being all decked out for this most festive time of year.
The True Spirit of Christmas
While so many areas around the UK focus on the material end of the holidays, Warwickshire and the nearby counties of Herefordshire, Shropshire, Staffordshire and Worcestershire in the West Midlands focus on all things family. This is in keeping with the local culture throughout the year in which it is always 'family first.' 
In fact, Christmas here is a time when we see many of our foster families coming out so that the children in their care learn to experience family love in a way which they might otherwise have missed. We can't be more proud of our local families for the way in which they bring to the surface this special way of experiencing family life in communities that are smaller and less crowded than the bigger cities in the UK. There is something here that holds traditional family values alongside more modern family ways of life so that children learn to experience the best of both worlds. It's all about commitment and love here, especially during the Christmas holidays.
If You've Missed the Tree Lighting Ceremonies Throughout the County… 
Even though many families come to take part in the traditional lighting of the trees, if you've missed those events, you can always stroll through Warwick or Nuneaton in the early evening hours to experience the magic as each decorated tree around those communities jump to life, lighting the tree itself and the night sky in the neighbourhoods in which those trees are located.
Many churches have decorated outdoor trees on their grounds, and during this time of year, you might find the church left unlocked so that families can step inside to offer prayers for their family as well as all those families in the community that are suffering hard times.
A Warm Welcome to All Holiday Visitors
Anyone visiting the West Midlands, Warwickshire in particular, during the holiday season will notice that they are given a warm welcome. All the shops have been decorated to bring the festivity of the season out in grand style. You will find that there are no strangers here during the holidays and that if you are a first-time visitor to any of our small, but lively, communities, you will be greeted as if you were long-lost kin.
Then there are some of the UK's most noteworthy restaurants you will definitely want to sample. Maybe you'd like to have afternoon tea in the Tilted Wig, which is the perfect example of a 17th century inn serving an assortment of traditional English dishes. Other restaurants to sample during the holidays include:
Dough and Brew
The Art Kitchen
The Aubergine Turkish Restaurant
The Rose and Crown
The Rosebuck Inn
Each of the above is listed as being favourites by visitors and locals alike. You will, after all, work up an appetite going from activity to activity, adventure to adventure, and what better way to sate that hunger than with traditional British fare? Since every family has at least one foodie in the crowd, there is no way you can say you've visited the holiday attractions in Warwickshire without tasting some of the very best English cuisine on the entire island. You'll be happy you did and what a lovely way to top off the day!