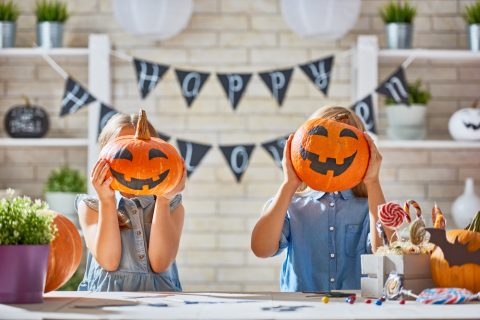 Halloween is a time of year the kids can really get into. If you are fostering in the Worcestershire area and are looking for some fun things to do with your foster kids, there are plenty of things on offer. Enjoying occasions like Halloween can be a great way to bond with your foster children and get to know them better. Even just wearing a Halloween costume can help kids break down their inhibitions and have a little more fun. But while there is a lot you can do at home or in your local neighbourhood, like dressing up and trick or treating, going to a spooky Halloween event can be even more entertaining and can help you create some great memories with your foster child.  
Here we look at some of the many things you can consider taking your family out to in Worcestershire for Halloween: 
7 Activities to do this Halloween in Worcestershire
Avoncroft Museum
Every year, this fantastic museum hosts its Halloween Night special event. This includes a tour around the grounds by moonlight with a lot of spooky surprises for the kids, as well as a chance to look around the museum with a fun Halloween twist. If you are looking for an event that your foster kids will find enjoyable as well as educational, this is a brilliant choice for Halloween night. If you are fostering young children who may not be ready for the scarier events, there are also things to see and do as parents and guardians of young kids, so you can be sure you'll have a lot of fun going to this event,
Becketts Farm
When it comes to local Halloween traditions, you really can't find anything more established than the witches at Becketts Farm. These interesting ladies have been holding a Halloween event for many years now and have learned what it takes to make it a scintillating activity for people of all ages. The main focus of what they do is pumpkin carving, which is something a lot of kids will get a kick out of at Halloween. But they introduce all kinds of spooky, witchcraft related themes into what the kids are doing, to really create that Halloween atmosphere.
Kids get to take home the things they have made during their session, like the spooky Halloween pumpkin they got to carve.
Thinktank Science Museum
This museum may be a little further away, but it still has plenty to offer if your kids want to have a Halloween themed time. There are all different things they put on each year for their special Halloween celebration but highlights from past years include a silent zombie disco, special family photos using different types of light, and their very own special trick-or-treat event.  
If you are looking for something that captures the mood of Halloween, but which is also educational, interesting and fun for the kids, this is certainly a good choice. Going to the science museum in the run-up to the big day will also provide you with some interesting knowledge and facts that will be sure to impress. 
Cadbury World
Every child loves chocolate, and the thing most associated with Halloween is, of course, sweets and chocolate. If you live in the Worcester area then Cadbury World is not far away, and it can definitely represent a fun place to take your family for Halloween. The itinerary of special events changes every year, but in past years, Cadbury World Park has had events themed around different characters they use in their chocolate, such as having a special Halloween event themed around Freddo the frog for Halloween 2022. These events generally require booking in advance due to their popularity, but it can be well worth securing some tickets to see the magic that Cadbury has on offer at this special time of year. 
Warwick Castle
What could be spookier on Halloween than spending the evening in an old castle? At Warwick Castle, there are always exciting events for young ones to join in with during the Halloween festivities. These can include a special trail around the castle grounds that has been set up with special Halloween scares, as well as the staff at the castle wearing special costumes for the night. If you and your family like the idea of a place that is interesting and historical but is going all out to be scary for the occasion, then it is definitely a good idea to head to Warwick Castle.
Tudor World Halloween in Stratford-upon-Avon
When it comes to spooky history, there are few places in the UK that can offer more than Stratford-upon-Avon. Tudor World is a museum that can educate kids about the Tudor period in Britain in a fun way – teaching them about the most interesting people from the time. For Halloween, however, they often put on special events that let the kids go deeper into just what made this period of British history so crazy. In past years, Tudor World has had special features about characters from the past with a spooky bent, like Jack the Ripper, and this year's festivities should be no exception.
Tamworth Castle
Tamworth Castle is always an interesting place to visit with your family, if you are interested in local and national history. It is also set in beautiful grounds, which make visiting it a fun day out at any time of year. However, for Halloween, in most years there are special mediaeval themed events held at the castle, which can provide a fun time for everyone in the family. Exploring the grounds of an old castle on the spookiest night of the year is bound to provide some Halloween atmosphere, and this is certain to be a place your foster kids will remember visiting with you long into the future.
Halloween can be fun to celebrate just among your family and friends, but when you go out and see the effort that goes into a lot of the fun events around the region, you can see why it is well worth planning to take your family out for a Halloween adventure!