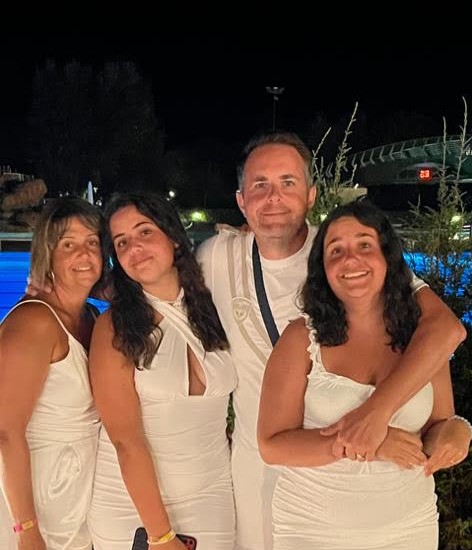 Meet Clifford House foster dad Phil, who is encouraging men to open up and consider fostering.
Philip (Phil), 44, has been a foster dad for nearly two decades now and is sharing his experience to encourage more dads to take up fostering and open up.
After a successful career as a banker and part-time foster carer, Phil decided to take the leap and leave his banking job to foster full-time, alongside his wife Leanne.
Most recently, Phil has been a full-time foster dad to two young boys for the past year and describes his experience as "more than positive".
Both Phil and Leanne's parents were foster parents when they were children and so they grew up with those experiences that have helped them along their fostering journey.
Phil and his wife have three birth daughters who were onboard and very eager to open their home and hearts to foster children, after watching the CBBC show The Dumping Ground, a children's drama which shines a light on the lives of children in care.

Phil said: "It gave them (his birth children) the insight that you can open up your home and share and showed them how fortunate they have been throughout their own childhoods."
Phil and his wife have different parental roles and they "complement each other really well". Phil enjoys being a dad to both his birth children and his foster children.
He said: "As a father figure, I am very much the same to the boys as I am to my girls.
"I am the person who'll give them the long chats and teach them discipline but I am also the person who will make them laugh at the same time".
Wife Leanne, takes on the role of nurturer, where Phil sees himself as a mentor to his children.
He explains: "If they've done something wrong, I'll take them on a walk with our dog and we'll have a chat about their thoughts and feelings and we work it out, because we care".
Phil has been fostering with Clifford House for most of his fostering journey and has had great support from the team there.
He said: "It was everything we'd hope it would be. We always have support, through regular emails or in-person visits. The communication is excellent.
We are encouraged to come in for regular training with them and they arrange lots of activities for us, be it sports days, summer fetes, Christmas parties, and more. They make you feel like part of their family".
Phil has followed in his father's footsteps and goes by his teachings even today but also recognises that we need to change with the changing world.
He said: "The core values I learnt from my own father will never go away regardless of time, but I am constantly learning and growing to be able to give these children a good childhood and be a good father to them".
Phil wants foster parents, mainly dads, to know that it's okay to have weaknesses and to speak about them openly.
He said: "We've all got different skill sets. You might be good at many things but may lack in a few areas, and that's completely okay. Don't be afraid to seek help and advice if you are unsure".
Being a father, Phil realises that it can be hard for parents, especially dads, to show their vulnerability to their families.
He said: "As men, we are scared to burden our loved ones with their feelings, but that isn't always the case. If you can't speak to a loved one, speak to a peer or a professional, don't keep it bottled up inside you".
Phil wants foster dads to know that they aren't alone and that the foster care community is always there to listen today and every day.